We are excited to announce that we have new Group Classes  forming for Puppy Fundamentals, Basic Foundations, and Basic Foundations for 25 lbs and Under.   To register, please use the contact us tab, and then pay online  through paypal, clicking the group training link.  Once you have registered, we will send you some general information about classes.
If you are wondering if your dog is suitable for group classes, please do not hesitate to contact us.  You may also view this video.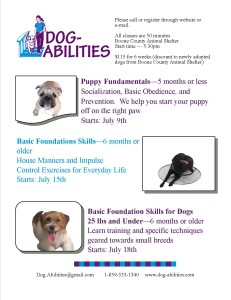 Includes information about our upcoming group classes as well as some useful dog tips for summer!
Click here to read the Summer Newsletter